CPU
x86-64-AMD Ryzen Zen 8 Cores / 16 Threads at 3.5GHz (variable frequency)
GPU
Ray Tracing Acceleration
Up to 2.23 GHz (10.3 TFLOPS)
GPU Architecture
AMD Radeon RDNA 2-based graphics engine
Memory/Interface
16GB GDDR6/256-bit
Memory Bandwidth
448GB/s
Internal Storage
Custom 825GB SSD
IO Throughput
5.5GB/s (Raw), Typical 8-9GB/s (Compressed)
Expandable Storage
NVMe SSD Slot
External Storage
USB HDD Support
Optical Drive (optional)
Ultra HD Blu-ray (66G/100G) ~10xCAV
BD-ROM (25G/50G) ~8xCAV
BD-R/RE (25G/50G) ~8x CAV
DVD ~3.2xCLV
PS5 Game Disc
Ultra HD Blu-ray, up to 100GB/disc
Audio
"Tempest" 3D AudioTech
Video Out
HDMI Out port
Support of 4K 120Hz TVs, VRR (specified by HDMI ver 2.1)
Dimensions
PS5 – 390mm x 104mm x 260mm (width x height x depth)
PS5 Digital Edition – 390mm x 92mm x 260mm (width x height x depth)
Weight
PS5 – 4.5kg
PS5 Digital Edition – 3.9kg
Power
PS5 – 350W
PS5 Digital Edition – 340W
Input / Output
USB Type-A port (Hi-Speed USB)
USB Type-A port (Super Speed USB 10Gbps) x2
USB Type-C port (Super Speed USB 10Gbps)
Networking
Ethernet (10BASE-T, 100BASE-TX, 1000BASE-T)
IEEE 802.11 a/b/g/n/ac/ax
Bluetooth 5.1
Buy Sony – PlayStation 5 Console in Gray White from us at the best prices in Pakistan and enjoy our nationwide free delivery, customers from Karachi, Lahore, Islamabad, Quetta, Peshawar, Multan, Faisalabad, Sialkot, Hyderabad can get deliveries within 24 hours.
Lightning speed
Experience lightning-fast loading with an ultra-high speed SSD, deeper immersion with support for haptic feedback, adaptive triggers and 3D Audio, and an all-new generation of incredible PlayStation® games.
Harness the power of a custom CPU, GPU and SSD with Integrated I/O that rewrite the rules of what a PlayStation console can do.
Backwards compatibility
Play a back catalog of PS4™ games on your PS5 console
Game boost
Enjoy faster and smoother frame rates in select PS4 and PS VR games.
Upgrade PS4 games to digital PS5 games
The PS5 console gives game publishers the ability to let players upgrade their disc and digital PS4 games to digital PS5 games.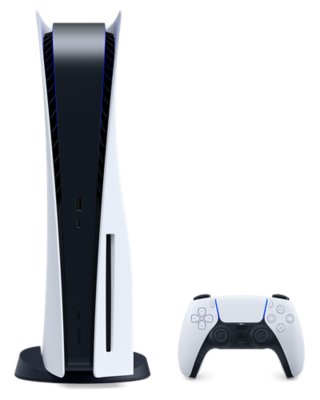 PlayStation®VR integration
Connect your PlayStation VR to your PS5 console to enjoy supported PS VR games. To set up your PS VR with your PS5 console you'll need your PlayStation Camera2 for PS4 and a PlayStation Camera adaptor (no purchase necessary).
The PlayStation Plus Collection
Enjoy a selection of generation-defining PS4 games, included with your PS Plus membership at no extra cost. Access the entire collection on your PS5 at launch.
Discover a deeper gaming experience with support for haptic feedback, adaptive triggers and 3D Audio technology.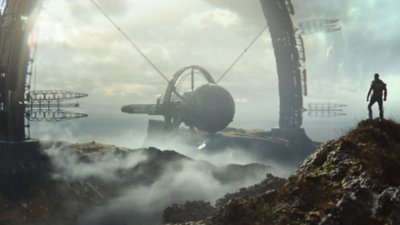 DualSense™ wireless controller
Discover a deeper, highly immersive gaming experience1 with the innovative new PS5™ controller, featuring haptic feedback and dynamic trigger effects. The DualSense wireless controller also includes a built-in microphone and create button, all integrated into an iconic, comfortable design.
Haptic feedback
Experience haptic feedback via the DualSense wireless controller in select PS5 titles and feel the effects and impact of your in-game actions through dynamic sensory feedback.
Adaptive triggers
Get to grips with immersive adaptive triggers, featuring dynamic resistance levels which simulate the physical impact of in-game activities in select PS5 games.
Built-in microphone and headset jack 
Chat with friends online using the built-in microphone – or by connecting a headset to the 3.5mm jack. Easily switch off voice capture at a moment's notice with the dedicated mute button.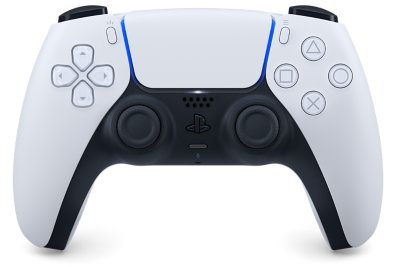 Cross-generation multiplayer
Game creators now have the option to enable online multiplayer game matches between PS5 and PS4 players. PS4 players can be seamlessly invited to play with PS5 players, and vice versa.
Game Hub
Games have hubs on PS5. Each game's hub collects everything related to that game together, from activities, to community broadcasts, to new game content. It's a constantly updated space that will evolve and adapt throughout the game's lifecycle.
Control Center
Quickly access frequently used system features, game content, and activities without leaving your gameplay. Simply press the PS button while playing to see the Control Center overlay.
Activities
Game creators can build their PS5 games so you can jump straight into specific missions, modes, quests, and more straight from the console's Control Center.
Cross-generation chat with PS4™
Whether your friends are on PS4 or PS5, cross-generation voice chat means everyone can keep the conversation going with their account for PlayStation™Network. You can even chat with players on mobile devices who have PlayStation App. Online players can view a party member's screen, and even play their own game while watching them at the same time.