HPE 480GB SATA RI LFF SCC DS SSD 3Yr – 877748-B21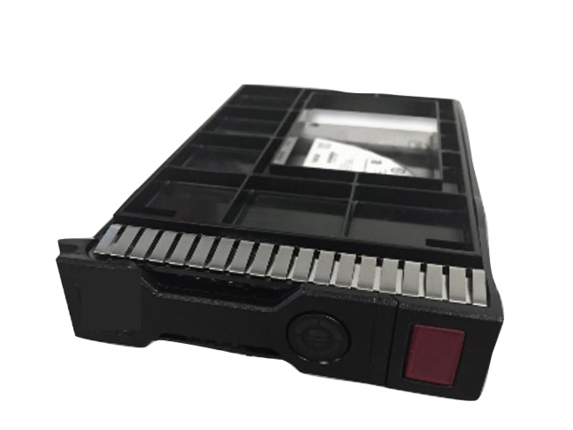 Overview
Do you need to accelerate the performance of your data-intensive applications? HPE Server Read Intensive (RI) Solid State Drives (SSDs) deliver high performance and endurance for applications requiring high random read IOPS performance. HPE (RI) SSDs typically have an endurance of <1 drive writes per day. All HPE SSDs are backed by over 3.35 million hours of testing and qualification [1] ensuring reliable, high performing drives. HPE Digitally Signed Firmware prevents unauthorized access to your data by providing the assurance that drive firmware comes from a trusted source. The self-describing icons on the HPE Smart Carrier take the guesswork out of a drive's status, and a "do not remove" button prevents data loss from human error. You can also monitor the lifespan of your SSD with HPE SmartSSD Wear Gauge compatibility in management tools, allowing you to determine if any drives are at risk of failure.
What's New
HPE 480 GB, 960 GB, 1.92 TB SATA Read Intensive LFF (3.5-inch) SCC, 3-year Warranty, Digitally Signed Firmware SSDs.
Features
HPE SSDs offer High Performance, Exceptional Reliability, and Efficiency for Faster Business Results
Ideal for big data analytics, cloud computing, active archiving, database applications and data warehousing.
Achieve higher IOPs to enhance the performance of your data center.
Maintain data accuracy with full data-path error detection.
Choose from a broad portfolio of enhanced solutions in a wide variety of capacities.
12 Gb/s SAS, 6 Gb/s SATA, NVMe, M.2, and M.2 Enablement Kits.
Detailed Tech Specification
Endurance DWPD (Drive Writes Per Day)
 : 
1
Read IOPS
 : 
Random Read IOPS (4KiB, Q=16)=60,000 Max Random Read IOPS (4KiB)=64,000@Q32
Write IOPS
 : 
Random Write IOPS (4KiB, Q=16)=20,000 Max Random Write IOPS (4KiB)=20,000@Q4
Plug Type
 : 
Hot Pluggable
Warranty
 : 
3/0/0 warranty Customer Self Repair (CSR) subject to maximum usage limitations. Maximum usage limit: This is the maximum amount of data that can be written to the drive. Drives that have reached this limit will not be eligible for warranty coverage.