HP Z2 G4 SFF WKS i7-8700 8GB DDR4 1TB SATA Win10 Pro 64 3Yr – 2YW30AV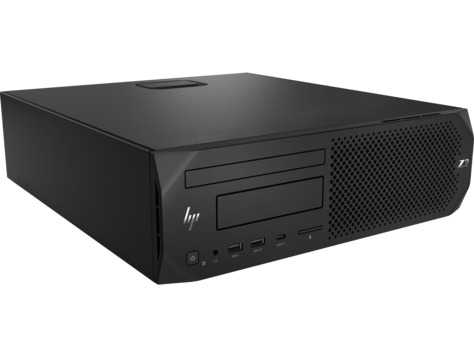 Overview
Get next-level performance with a compact device that can easily handle single and multi-threaded applications. With nearly endless configuration options, the Z2 SFF is the perfect hardware solution for your customization needs.
Windows 10 Pro or other operating systems available
Uncompromised power
Whether designing in 3D or running multiple applications at once, high-speed CPUs and NVIDIA® Quadro® P1000 graphics optimize your performance. Plus, leading software certifications mean reliable performance throughout your workflow.
Customized for your needs
Tailor your hardware to meet your unique needs with over 1 million configurations. A range of I/O ports free up PCIe slots for new, specialized and legacy peripherals.
HP's most secure and manageable workstations
Featuring
Operating Systems
Support your unique user needs with a choice of Windows 10 Pro 64 or Linux® operating systems.3
Professional Performance
Get powerful performance on single and multi-threaded applications with the latest generation Intel® Xeon® and Core™ processors.4
Graphics
Get great 3D performance with support for NVIDIA® and AMD professional graphics from Entry to Mid-range 3D.
Storage
With dual M.2 storage slots you can install the fasted pro-grade storage hardware to unlock your storage-bound apps without sacrificing standard PCIe slots.
Smaller, Functional Design
The stunning new design features front and rear ledges, so you can easily move your system from location to location.
Long Life
Perfect for OEMs, the Z2 SFF has the same dimensions as last generation and will ship and be supported over a long life.
Superb BIOS protection
Protect the firmware that antivirus can't reach! The hardware-enforced self-healing protection offered by HP Sure Start Gen4 automatically recovers the BIOS from malware, rootkits, or corruption.5
Second LAN option
Get multiple high-speed network connections including a second LAN option without needing to purchase and install an additional network interface card (NIC).6
Self-encrypting drives
With optional self-encryption drives, you have confidence knowing that if your storage device falls into the wrong hands, your valuable IP cannot be accessed.7
Windows 10 Pro or other operating systems available
Short Tech Specification
HP Z2 SFF G4 WKS/Win 10 Pro 64/Intel Core i7- 8700 6C 65W/8GB (1x8GB) DDR4 2666 UDIMM NECC/1TB 7200 SATA 3.5in WKS/HP SD Card Reader/3/3/3 Warranty