Dell Precision Tower 3620 -Windows 7 Pro, Intel(R) Xeon(R) 8GB DDR4 Memory, 500GB HDD – 3Yr Warranty
 Features & Design

Powerful performance
Fast is an understatement: Power through intensive tasks easily with processor options ranging from the new 7th Gen Intel® Core i™, 6th Gen Intel® Core i™ and Xeon® E3-1200 V5 processors enabled for fast and stable performance. Now including Intel® Core™ i7-7700K Processor options with up to 4.5 GHz turbo frequencies.
For the professional: Experience powerful graphics options including AMD FirePro™ or NVIDIA® Quadro® professional-grade discrete graphics for even the most demanding projects.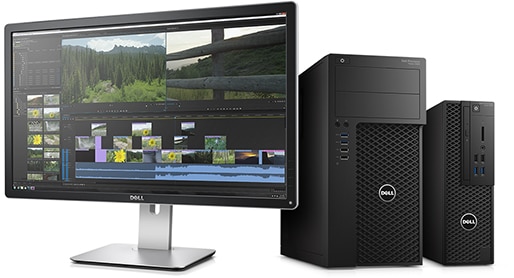 Your work can count on it
Independent Software Vendor (ISV) certification: Precision Workstations are tested to ensure the high-performance applications you rely on every day run smoothly. Dell ISV-certifications cover the most popular independent software applications. For a complete list of ISV certifications, click here.
.
Smart design, now in two sizes
Bring powerful performance to small spaces with the Precision Tower 3000 Series Workstation. Available in two sizes.
Small Form Factor
The small form factor tower Workstation is the world's most compact small form factor design. The optional Platinum-rated PSU has a smaller design that leaves a reduced environmental footprint.
Mini Tower
The compact size with the option to expand as your business needs grow makes this ideal for maximum space saving without sacrificing power or potential.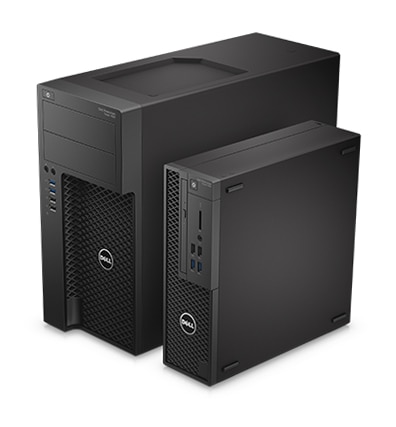 Built for security and reliability
Supreme security: You can choose your level of security with a number of beneficial options including: Optional Dell Data Protection | Security Tools + Dell ControlVault | Encryption Personal Edition or Enterprise Edition.
Massive memory: Easily store and access large and complex 3D, multimedia and video project files with the speed and reliability of up to 64GB3 of DDR4 2400 MHz memory.
Lock and key: Available FIPS certified self-encrypting drives (SEDs) can reduce security risks and unauthorized access to your data.
Big files? No problem: Large file transfers of data and video are quick and easy with Thunderbolt™ 2 connectivity as well as optional PCIe M.2 SSD storage.
Improve productivity with Dell Precision Optimizer
Different applications have different system requirements. Let Dell Precision Optimizer take the guesswork out of customizing settings by automatically adjusting system settings. Free with your Precision workstation, the Dell Precision Optimizer, with SCCM centralized management, automatically tunes your Workstation to run some of the most popular Independent Software Vendor (ISV) applications at the fastest speeds possible, enhancing productivity. The Dell Precision Optimizer generates real-time performance reports for processor, storage, memory and graphics utilization, as well as send a system report to IT for analysis.
To view the Dell Precision Optimizer spec sheet, click here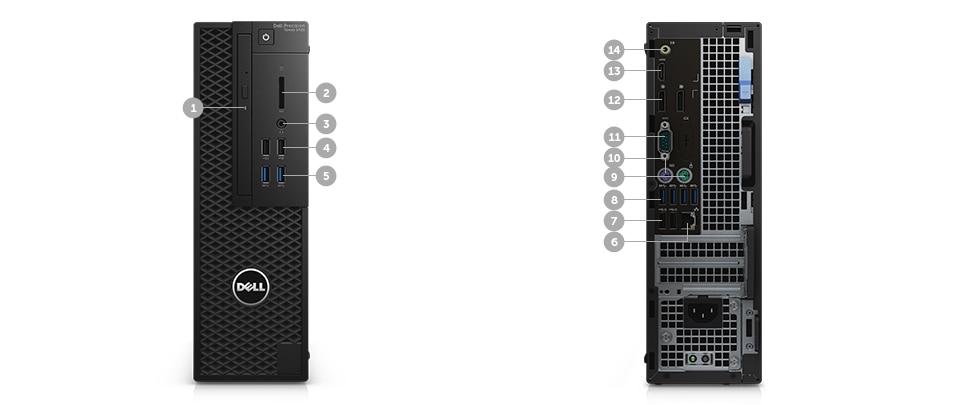 Ports & Slots – Small Form Factor Tower
1. Optical drive | 2. Memory Card Reader | 3. Universal audio | 4. USB 2.0| 5. USB 3.0 | 6. RJ45 port | 7. USB 2.0 | 8. USB 3.0 | 9. Mouse connector | 10. Keyboard connector| 11. Serial connector | 12. Display port | 13. HDMI | 14. Line-out connector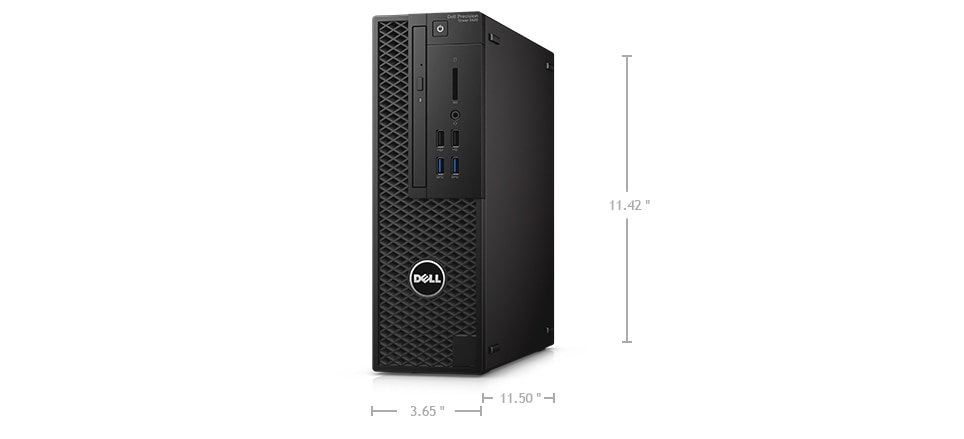 Dimensions & Weight – Small Form Factor Tower
Height: 11.42" (29cm) | Width: 3.65" (9.27cm) | Depth: 11.5" (29.21cm) | Weight: 11.68lbs (5.3kg)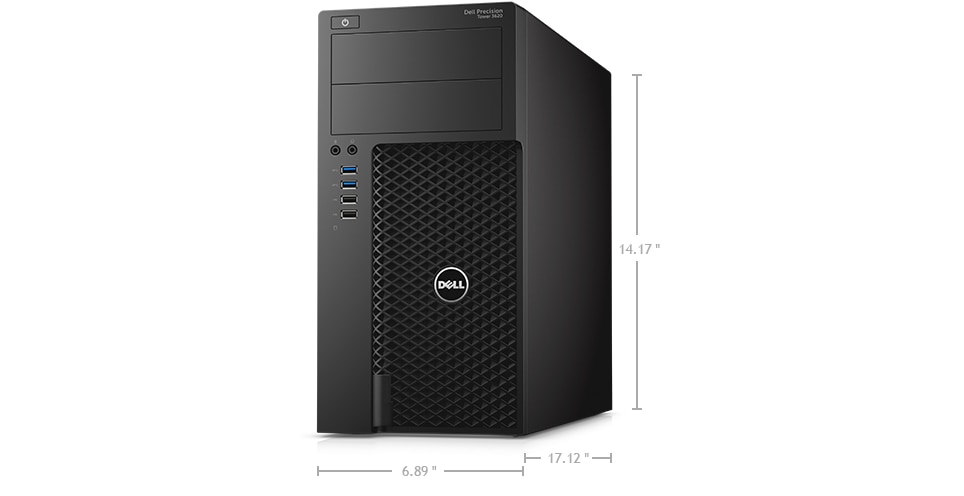 Dimensions & Weight – Mini Tower
Height: 14.17" (35.99cm) | Width: 6.89" (17.5cm) | Depth: 17.12" (43.48cm) | Weight: 20.06lbs (9.1kg)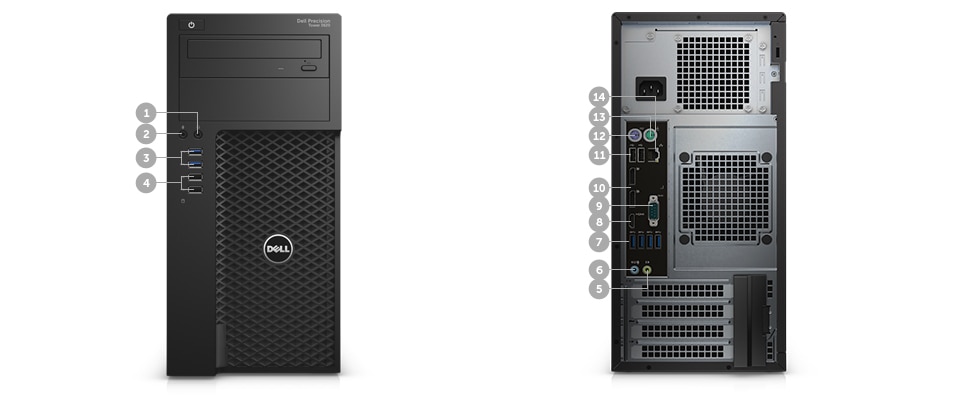 Ports & Slots – Mini Tower
1. Headphone | 2. Microphone | 3. USB 3.0 | 4. USB 2.0| 5. Line-out connector | 6. Line-in/Microphone | 7. USB 3.0 | 8. HDMI | 9. Serial connector | 10. Display port | 11. USB 2.0| 12. Keyboard connector | 13. Mouse connector | 14. RJ45 port
Short Specification
Precision Tower 3620 -Windows 7 Pro (64Bit Windows 10 License, Media) English, Intel(R) Xeon(R) Processor E3-1220 v5 (Quad Core 3.0Ghz, 3.5Ghz Turbo, 8MB), 8GB (2x4GB) 2133MHz DDR4 ECC UDIMM , 500GB 3.5inch Serial ATA (7,200 Rpm) Hard Drive, DVD-RW, NVIDIA(R) Quadro(R) K420 2GB (DP,DL-DVI-I) (1 DP to SL-DVI adapter)
3Y Basic end user next business day
Detailed Specification
Dell Precision Tower 3620 BTX
Precision Workstation Bundle
TPM Enabled
Intel(R) Xeon(R) Processor E3-1220 v5 (Quad Core 3.0Ghz, 3.5Ghz Turbo, 8MB)
No Energy Star
Boot drive or boot volume is less than 2TB
Dell Precision Tower 3620 Up to 85% efficient 290W Chassis
Dell Precision Resource DVD
English, Arabic, French, Turkish, Portuguese Setup and Features Guide
English, Arabic, French, Turkish, Portuguese Shipping Docs
8GB (2x4GB) 2133MHz DDR4 ECC UDIMM
500GB 3.5inch Serial ATA (7,200 Rpm) Hard Drive Fixed Precision Workstation
No Additional Hard Drive 100 ZR
Integrated Intel SATA Controller
No Intel Rapid Start or Smart Connect
16X Half Height DVD +/- RW
ODD config MOD for HH ODD only or MCR only
PowerDVD Software not included
UK/Irish/MY/SG/Sri Lanka/Bangladesh/HK Power Cord
Label, Non Active Port,T3620
GCC SPL only
Intel XEON Processor Label
Display Not Included
NVIDIA(R) Quadro(R) K420 2GB (DP,DL-DVI-I) (1 DP to SL-DVI adapter)
Dell Optical Mouse-MS116 – Black
Dell Multimedia Keyboard-KB216 – Arabic (QWERTY) – Black
Windows 7 Pro (64Bit Windows 10 License, Media) English
Windows 10 Pro OS Recovery 64bit – DVD
Microsoft Office 30 Day Trial – Excludes Office License
Dell Precision Tower 3620 Heatsink (80W)
Intel(R) vPro Technology Enabled
Waves Maxx Audio
Dell Applications for Windows 7
Dell Watchdog Timer
OS Recovery
Adobe Reader 11
Dell Precision Optimizer
Dell Data Protection | Protected Workspace
Dell Data Protection | Security Tools Digital Delivery/DT
MY DELL
No Anti-Virus Software
C1 SATA 3.5, 1 HD
Not Selected in this Configuration 75 ZR
Non RAID
Distribution Configuration Only
Not Selected in this Configuration 175 ZR
Not Selected in this Configuration 50 ZR
Base Warranty
1Yr Parts Only Warranty
Declined ProSupport
INFO 1Yr Basic Warranty – Next Business Day (Emerging Only)
3Yr Basic Warranty – Next Business Day (Emerging Only)
Keep Your Hard Drive Service – Not Selected
Dell Order
Precision T3620 MT Packaging
Fixed Hardware Configuration