Servers, Workstations
Dell PowerEdge T640 Server Intel Xeon Silver 4214 16GB DDR4 2TB HD – 3Yr
---
Brand :Dell
SKU: T640-4214-1-XPJ2H/T640-4214-2-XPJ2H
Supplier Code : G106200N
Last update : 31/8/2020
| | |
| --- | --- |
| CPU | Intel Xeon |
| Memory | 16GB |
| Storage | 2TB HDD |
| Warranty | 3-Years |
Dell PowerEdge T640 Server Intel Xeon Silver 4214 16GB DDR4 2TB HD – 3Yr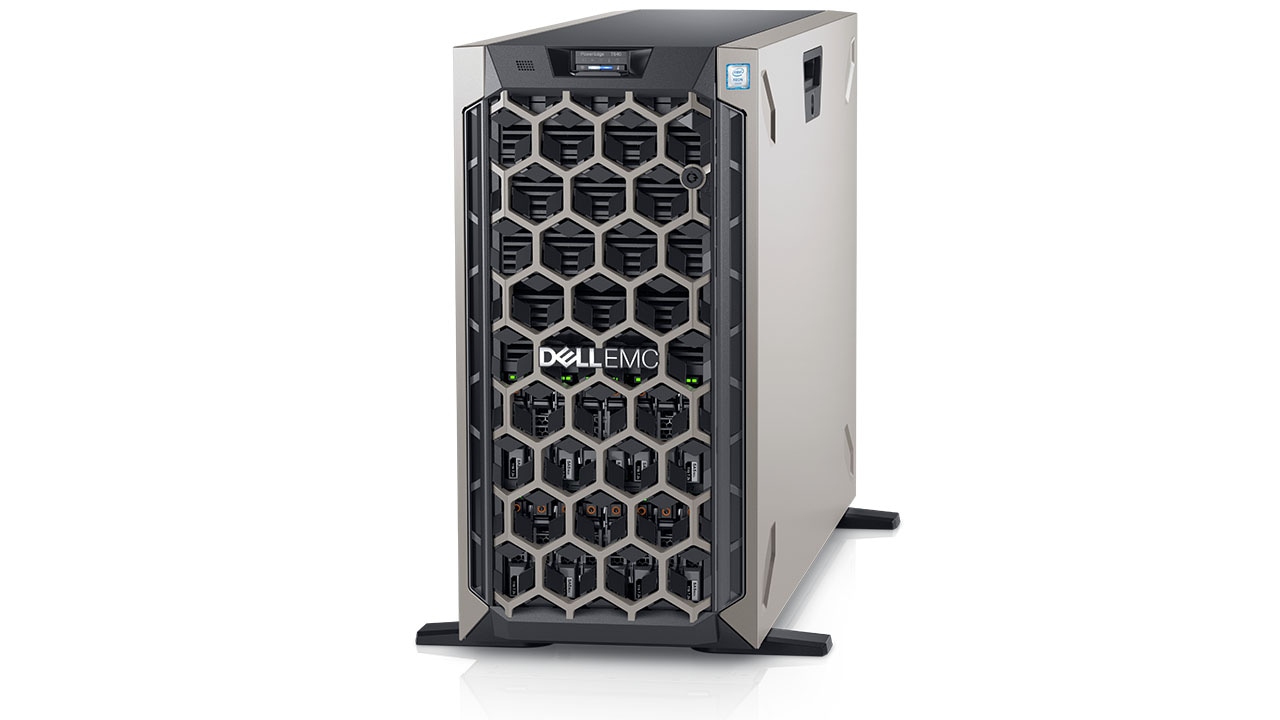 Powerful, versatile and scalable
Scale as your workloads evolve, with peak 2-socket server performance and huge internal storage capacity.
Overview
Accelerate modern workloads with a scalable platform
The PowerEdge T640 is a versatile, powerhouse server ideal for mid-sized offices, remote sites and data centers. The T640 combines powerful performance and massive internal storage capacity in a rack or tower platform. Address a wide range of workloads and future-proof your data center with flexible storage, performance and I/O options.
Great for:
Server virtualization, desktop virtualization
Consolidation
Database, business analytics (BI) and intelligence
Applications and imaging for medical, finance, education and science
ERP, CRM, HPC
Software-defined technologies
---
Adapt and scale with greater versatility
Meet evolving business needs with the scalable business architecture of the PowerEdge T640. Accelerate demanding workloads and plan for future growth with cost-effective, in-server expansion.
Deliver fast insights with up to 8 NVMe drives and 2 x 10GbE connections.
Scale compute resources with Intel® Xeon® Scalable processors that deliver a 27% increase in cores and 50% increase in bandwidth over the previous generation.*
Address massive data growth with up to 18 x 3.5″ or 32 x 2.5″ drives and 8 PCIe slots.
Provide advanced imaging and VDI with up to 4 x 300W GPU accelerators.
---
Enhance productivity with intelligent automation
Dell OpenManage intelligent automation enables you to spend less time on routine maintenance so you can focus on business-critical priorities.
Help maximize uptime and reduce the IT effort to resolve issues by up to 72%* with ProSupport Plus and SupportAssist.
Leverage existing management consoles with easy integrations for VMware® vSphere®, Microsoft® System Center and Nagios®.
Improve productivity with agent-free Dell iDRAC9 for automated management.
Simplify deployment with OpenManage next-generation console and server profiles to configure and prep servers rapidly and scalably.
---
Protect your business with integrated security
A comprehensive, cyber-resilient architecture with security embedded into every server helps to protect your data.
Protect server configuration and firmware from malicious changes with new Configuration Lock-down.
Use system erase of local storage to help ensure data privacy when you repurpose or retire servers.
Automate updates that check file dependencies and proper update sequence, before deploying them independently from the OS/hypervisor.
Take control of your firmware consoles with embedded authentication that is designed to allow only properly signed updates to run.
---
Short Tech Specification
PowerEdge T640,Intel Xeon Silver 4214 2.2G, 12C/24T, 9.6GT/s, 16.5M Cache, Turbo, HT (85W) DDR4-2400, 16GB RDIMM, 2933MT/s, Dual Rank, 2TB 7.2K RPM NLSAS 12Gbps 512n 3.5in Hot-Plug Hard Drive, PERC H730P RAID Controller, 2GB, Dual, Hot-plug, Redundant Power Supply (1+1), 495W
Detailed Tech Specification
PowerEdge T640 Server
PET640MM1
PowerEdge T640 MLK Motherboard
Intel Xeon Silver 4214 2.2G, 12C/24T, 9.6GT/s, 16.5M CacHE, Turbo, HT (85W) DDR4-2400
iDRAC,Factory Generated Password
iDRAC Group Manager, Disabled
Chassis with up to 8 x 3.5 SAS/SATA Hard Drives, Tower Configuration
Tower Standard Bezel for T640
Dell EMC Logo Push Pin
PowerEdge T640 Shipping EMEA2
Slovenian/Slovakian/Polish/Czech/Hungar/Greek/Arab)
PowerEdge T640 Shipping Material
No Quick Sync for Tower
Performance Optimized
2933MT/s RDIMMs
16GB RDIMM, 2933MT/s, Dual Rank
No Additional Processor
iDRAC9,Enterprise
2TB 7.2K RPM NLSAS 12Gbps 512n 3.5in Hot-Plug Hard Drive
PERC H730P Adapter RAID Controller, 2GB
No Additional Mid Fan
Standard Heat Sink for Less = 150W
DVD +/-RW, SATA, Internal
C13 to C14, PDU Style, 10 AMP, 6.5 Feet (2m), Power Cord 2
Dual, Hot-plug, Redundant Power Supply (1+1), 750W
No Trusted Platform Module
Order Configuration Shipbox Label (Ship Date, Model, Processor Speed, HDD Size, RAM
Asset Tag – ProSupport (Website, barcode, Onboard MacAddress
On-Board Dual-Port 10GbE LOM
No Media Required
No Operating System
No Systems Documentation, No OpenManage DVD Kit
Partner Operations Support
No Installation Service Selected (Contact Sales Rep for more details)
Configuration Services, Standard ISG System Report, Deliver Via Email
Power Saving Dell Active Power Controller
Casters for PowerEdge Tower Chassis
Unconfigured RAID
Enterprise Order – EMEA.
Parts Only Warranty 12 Months
Basic Next Business Day Extension, 24 Month(s)
Basic Next Business Day Initial, 12 Month(s)