Dell PowerEdge T130 Intel Xeon E3-1220 v6 8GB UDIMM 1TB HD – 1Yr
Powerful, compact, agile.
Powerful 1-socket, mini-tower first server for small office/home office and SMB to consolidate data and drive applications faster.
Overview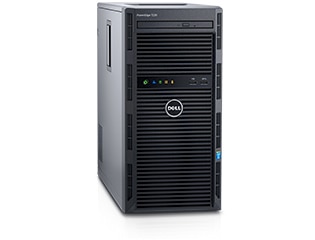 Get organized and become more productive
Consolidate data from multiple laptops or desktops onto a single server with up to 4 x internal 3.5″ hard drives.
Ensure fast response times with the latest quad core Intel® Xeon® E3-1200 v6 product family, as well as flexible dual core processor options including Intel Pentium®, Intel Core i3®, or Intel Celeron®.
Easily and flexibly attach peripheral devices with eight external USB ports.
---
Accelerate application performance
Drive greater memory performance and expand capacity up to 64GB through time with 4 x DIMM slots and enhanced DDR4 memory, offering 50% faster clock speed than previous-generation DDR3 which is 12.5% faster than the initial 2133 MT/s implementation of DDR4*.
Boost data throughput with 4 x PCIe 3.0 slots driving 2x data throughput compared to PCIe 2.0
Drive 2x IOPS performance with the PowerEdge PERC9 RAID controller, compared to previous-generation PowerEdge T110 II equipped with PERC8*.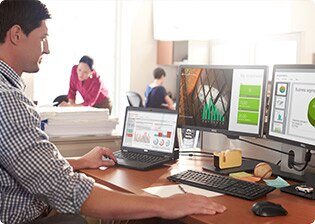 ---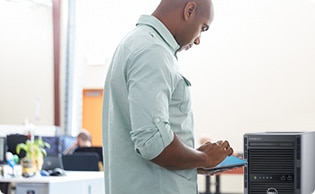 Reliable, worry-free operation
Deploy rapidly and turn the server over for productive work sooner with Dell OpenManage systems management solutions.
Easily monitor system health and behavior with simple, intuitive Dell OpenManage Essentials console.
Save IT administrator time by automating firmware updates — up to 92% reduction in firmware update time using Repository Manager auto-updates compared to manual updates.*
---
Dell Solutions

Transform your IT. We can help.

When you buy a Dell server, you get more than just hardware. You get access to IT solutions end to end. From the onboard iDRAC with Lifecycle Controller in each server — to a huge array of complementary technologies, software, and services — we help you develop data center solutions that advance the goals of your business or organization, for now, and for the future. Among an array of innovative technologies, you'll find state-of-the-art solutions for systems management, storage, networking and so much more.

State-of-the-art systems management
You can improve the performance, productivity and availability of your data center resources with our cutting edge portfolio of systems management solutions. Get anytime anywhere mobile access to your hardware, agent-free embedded management, extensive automation, and connections to third-party management solutions you may already use.
Innovative storage solutions
Improve security and performance while you store more data on less hardware. Our storage server portfolio brings you technologies like our industry-leading deduplication and compression algorithms, our patented high-performance Dell Fluid File System (FluidFS), and advanced, intelligent autotiering.
Future-ready networking
You can optimize and modernize your network infrastructure, and evolve beyond proprietary architectures with our open, standards-based networking solutions, and ready paths to software defined networking (SDN). We've been delivering high-performance, reliable networking solutions for over a decade, and today we power some of the world's most demanding enterprise and Cloud/Web 2.0 environments.
And so much more

Servers, storage and networking solutions are just the tip of the iceberg of technologies we can help you develop, manage and optimize. When you visit our solutions pages, you'll find insights and resources for a wide range of platforms and solutions.
Visit our Solutions site for details, or talk to a Dell expert for one-on-one expertise.
---
Dell EMC offers complete end-to-end services
Optimizing the IT lifecycle is vital. We have expert services* for all lifecycle phases that save you time and resources, reduce effort, and improve your IT experience.
Short Tech Specification
PowerEdge T130- 4x 3.5 Cabled, Intel Xeon E3-1220 v6 3.0GHz, 8M cache, 4C/4T, turbo (72W), 8GB UDIMM, 2133MT/s, ECC, 1TB 7.2K RPM SATA 6Gbps 3.5in Cabled Hard Drive, iDRAC8, Basic, DVD+/-RW SATA Internal
Detailed Tech Specification
PowerEdge T130 Server
PET130E2a
PowerEdge T130/T330 Motherboard MLK
Intel Xeon E3-1220 v6 3.0GHz, 8M cache, 4C/4T, turbo (72W)
Chassis with up to 4, 3.5 Cabled Hard Drives and Embedded SATA
PowerEdge T130 Shipping EMEA1
French/German/Spanish/Russian/Hebrew)
Performance Optimized
2400MT/s UDIMMs
8GB UDIMM, 2400MT/s, Single Rank, x8 Data Width
iDRAC8, Basic
1TB 7.2K RPM SATA Entry 3.5in Cabled Hard Drive
No Controller
Performance BIOS Settings
Standard Heat Sink for PE T130
DVD+/-RW SATA Internal
UK Power Cord
PowerEdge Server FIPS TPM 2.0
On-Board LOM 1GBE Dual Port (BCM5720 GbE LOM)
No Media Required
No Operating System
No Systems Documentation, No OpenManage DVD Kit
No Installation Service Selected (Contact Sales Rep for more details)
Not Selected in this Configuration
No RAID with Embedded SATA
Enterprise Order – EMEA.
Base Warranty
1Yr Parts Only Warranty
Declined ProSupport
1Yr Basic Warranty – Next Business Day (Emerging Only )