Dell PowerEdge R740 Intel Xeon Silver 4114 16GB RDIMM 300GB SAS HD – 3Yr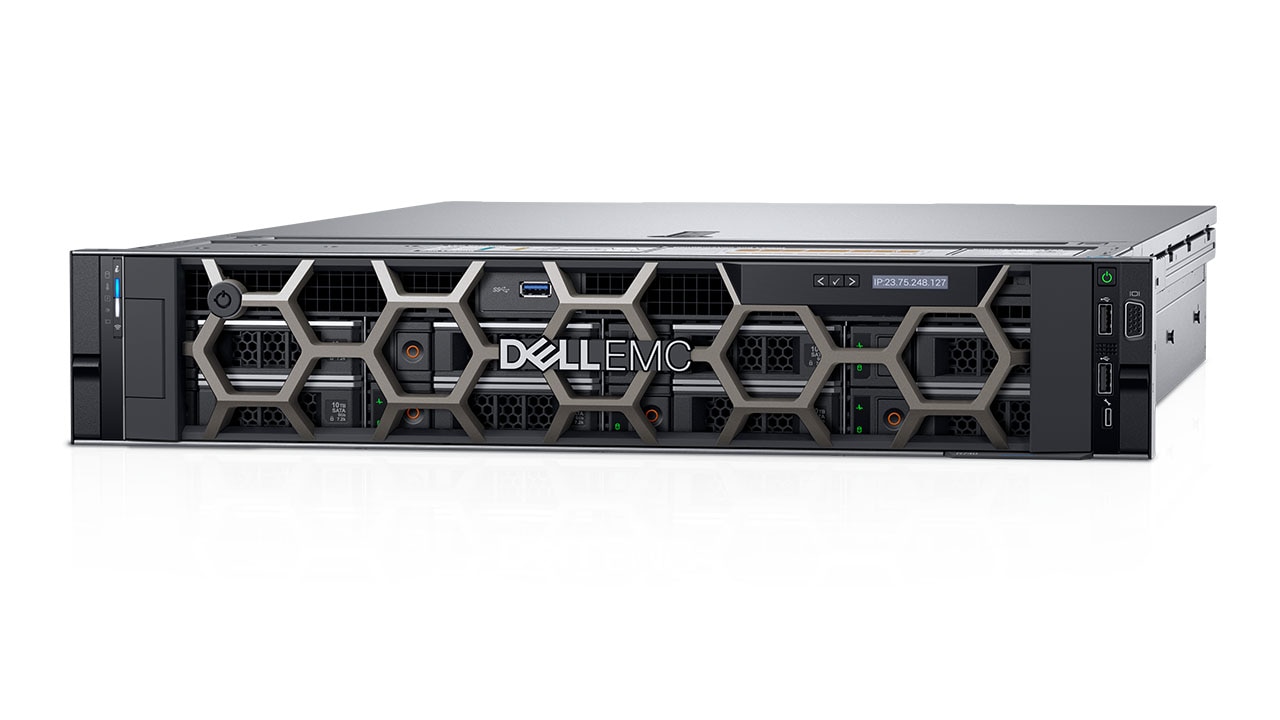 Accelerate your applications
Maximize application performance with the optimal mix of accelerator cards, storage and compute power in a 2U, 2-socket platform optimized for VDI.
Overview
General-purpose workhorse optimized for workload acceleration
Maximize your application performance with the PowerEdge R740 server, which brings you the perfect balance of accelerator cards, storage and compute resources in a 2U, 2-socket platform. With up to three 300W accelerator cards or six 150W cards, the R740 has the versatility to adapt to virtually any application and provides the optimum platform for VDI deployments. The R740 offers up to 16 x 2.5" or 8 x 3.5" drives and iDRAC9, so you can scale to meet demands and simplify the entire IT lifecycle.
Ideal workloads:
VDI
Private cloud
Artificial intelligence
Machine learning
---
Achieve IT transformation with the Dell EMC PowerEdge portfolio
The R740 is a general-purpose workhorse optimized for workload acceleration. With its versatility, the R740 can help you transform your data center for VDI, artificial intelligence and software-defined storage (SDS).
Simplify and accelerate VMware vSAN™ deployments with validated, pre-bundled and tailored Ready Nodes.
Scale compute resources with Intel® Xeon® Scalable processors, delivering a 27% increase in processing cores and 50% increase in bandwidth over previous generation of Xeon processors.*
Scale your VDI deployments with 3 double-width GPUs, supporting up to 50% more users when compared to R730.*
Free up storage space using internal M.2 SSDs optimized for boot.
---
Automate productivity with intelligent, embedded management
Dell EMC automation and intelligent management mean you spend less time on routine maintenance so you can focus on bigger priorities.
Help maximize uptime with proactive diagnostics and automated remediation that increase productivity up to 90%.*
Leverage existing management consoles with easy integrations for VMware® vSphere®, Microsoft® System Center and Nagios®.
Help improve productivity with agent-free Dell EMC iDRAC9 for automated, efficient management.
Simplify deployment with OpenManage next-generation console and server profiles to fully configure and prep servers in rapid, scalable fashion.
---
Fortify your data center with comprehensive protection
Dell EMC provides a comprehensive, cyber-resilient architecture with security embedded into every server to protect your data.
Protect server configuration and firmware from malicious changes with new Configuration Lock-down.
Use system erase of local storage to help ensure data privacy when you repurpose or retire servers.
Automate updates that check file dependencies and proper update sequence, before deploying them independently from the OS/hypervisor.
Take control of your firmware consoles with embedded authentication that is designed to allow only properly designed updates to run.
---
Dell EMC offers complete end-to-end services
Optimizing the IT lifecycle is vital. We have expert services* for all lifecycle phases that save you time and resources, reduce effort, and improve your IT experience.
---
ProSupport Enterprise Suite
Gain the freedom to focus on your business transformation with the support expertise and insights Dell EMC is known for across the globe. Choose the right support based on the criticality of specific systems with available automated predictive analysis, collaborative third-party assistance and service account management.
---
ProDeploy
ProDeploy Enterprise Suite helps you get more out of technology starting on day one. Trust our experts to lead deployments from basic hardware installations through planning, configuration and complex integrations. Our complete suite of deployment services and professional certifications helps you achieve business outcomes today and tomorrow.
---
Training & Certification
Education Services offers an expansive suite of training services with multiple delivery methods, including instructor-led, self-paced online and virtual instructor-led training. With comprehensive and flexible training programs, we make it easy to ensure your staff has the skills they need to successfully manage and utilize your new technology to its full potential.
---
Consulting
Consulting services give expert guidance to help you grow, optimize and transform your IT environment at your own pace and budget. We employ a broad range of certified consultants and engineers, backed by program management teams, who can deliver deep technical expertise. We give you the confidence that your project will be done right and on time.
---
Financing and leasing
Acquiring the latest IT solutions shouldn't be as complicated as running your business. With Dell Financial Services you can finance and purchase in the same place*. It's quick, it's easy and most important, it lets you keep the "flow" in your cash flow.
Short Tech Specification
PowerEdge R740 3.5″ Chassis with up to 8 Hard Drives, Intel Xeon Silver 4114 2.2G, 10C/20T, 9.6GT/s 2UPI, 14M Cache, Turbo, HT (85W) DDR4-2400, 16GB RDIMM,2666MT/s, Dual Rank, 300GB 15K RPM SAS 12Gbps 512n 2.5in Hot-plug Hard Drive, 3.5in HYB CARR, PERC H730P RAID Controller, 2Gb NV Cache, Minicard , Single, Hot-plug Power Supply (1+0), 750W , iDRAC9, Express, integrated Dell Remote Access Controller, ReadyRails Sliding Rails With Cable Management Arm
Detailed Tech Specification
PowerEdge R740 Server 
PER740M1
PowerEdge R740/R740XD Motherboard
Intel Xeon Silver 4110 2.1G, 8C/16T, 9.6GT/s , 11M Cache, Turbo, HT (85W) DDR4-2400
iDRAC,Factory Generated Password
iDRAC Group Manager, Disabled
Chassis with up to 8 x 3.5″ SAS/SATA Hard Drives for 1CPU Configuration
PowerEdge 2U Standard Bezel
Riser Config 1, 4 x8 slots
PowerEdge R740 Shipping EMEA2
Slovenian/Slovakian/Polish/Czech/Hungar/Greek/Arab)
PowerEdge R740 Shipping Material
Dell EMC Luggage Tag
No Quick Sync
Blank for 1CPU Configuration
Performance Optimized
2666MT/s RDIMMs
16GB RDIMM, 2666MT/s, Dual Rank
No Additional Processor
iDRAC9, Express
600GB 10K RPM SAS 12Gbps 512n 2.5in Hot-plug Hard Drive, 3.5in HYB CARR
PERC H730P RAID Controller, 2GB NV Cache, Mini card
4 Standard Fans for R740/740XD
Standard 1U Heatsink
DVD+/-RW,SATA,Int
Single, Hot-plug Power Supply (1+0), 750W
C13 to C14, PDU Style, 10 AMP, 6.5 Feet (2m), Power Cord 20 ZR
No Trusted Platform Module
Broadcom 5720 QP 1Gb Network Daughter Card
No Media Required
No Operating System
No Systems Documentation, No OpenManage DVD Kit
No Installation Service Selected (Contact Sales Rep for more details)
Not Selected in this Configuration
Asset Service – System Shipbox Label (Model, Svc Tag, Order Information, Basic Config Details)
Power Saving Dell Active Power Controller
ReadyRails Sliding Rails With Cable Management Arm
Enterprise Order – EMEA.
Base Warranty
1Yr Parts Only Warranty (Emerging Only)
Declined ProSupport
INFO 1Yr Basic Warranty – Next Business Day (Emerging Only)
3Yr Basic Warranty – Next Business Day (Emerging Only)