Dell PowerEdge R730 Intel Xeon E5-2630 8GB RDIMM 300GB HD – 3Yr
Overview
Tackle almost any workload
Dell server PowerEdge R730 | The incredible versatility of the PowerEdge R730 server delivers outstanding functionality in just 2U of rack space. With the combination of powerful processors, large memory, fast storage options and GPU accelerator support, the R730 performs exceptionally well in a number of demanding environments.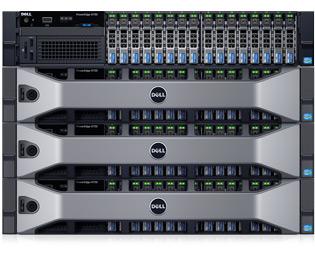 Virtualization and cloud applications
With the Intel® Xeon® processor E5-2600 v4 product family and up to 24 DIMMs of DDR4 RAM, the R730 has the processing cycles and threads and large memory footprint necessary to deliver more, larger and higher-performing virtual machines for data centers and cloud platforms.
Highly scalable storage, with up to 16 x 12Gb SAS drives and the high-performance 12Gb PowerEdge RAID Controller (PERC9), can greatly accelerate data access for your virtualized environment. In addition, the R730 can take advantage of optional SanDisk® DAS Cache application acceleration technology for even faster data access.
VDI and HPC
The option for up to two 300W dual-width accelerators/GPUs (choose from Intel® Xeon Phi™, NVIDIA® Tesla® and AMD FirePro™) supports environments that require processing acceleration, including graphics-intensive virtual desktop infrastructure (VDI) implementations, such as CAD/CAM and other research and development applications. Seven PCIe Gen3 expansion slots plus a dedicated slot for a RAID controller further enhance IO flexibility to help make the R730 an ideal compute node for IT as a service (XaaS) providers as well as high-performance computing (HPC) and medical-imaging solutions.

Reliable business processing and decision support
The popular-sized 2S/2U R730 can be easily configured as a reliable, general-purpose server for business-critical applications, with scale-out storage, automated management and high-availability features, such as:
• Redundant power supply units (PSUs)
• Hot-plug and swappable PSUs, HDDs and fans
• Dual SD card option for failsafe hypervisors
Simplify and automate your IT management tasks
Manage your data center servers the way you want: individually, collectively, in-person, remotely or with your smartphone — it's your choice. Consistent administration and 3rd-party integration ensure seamless management of PowerEdge servers.
| | | |
| --- | --- | --- |
| | | Simplify administration of PowerEdge servers with the embedded intelligence of the integrated Dell Remote Access Controller (iDRAC) with Lifecycle Controller and with the robust, timesaving management features of the entire Dell OpenManage portfolio. |
| | | |
| | | Agent-free management from iDRAC8 with Lifecycle Controller offers real-time monitoring for the server and internal storage devices. It also monitors server health, multiple internal parameters and system performance without requiring agents to be installed in the server operating system — agents which could require additional upkeep and consume valuable CPU time. |
| | | |
| | | Zero-touch automated deployment discovers and auto-configures Dell servers by using configuration files stored in designated locations on an internal network, which can reduce setup time and manual entry errors. Administrators can simply rack, cable and walk away. |
| | | |
| | | Automated server updates synchronize servers to firmware baselines stored at designated locations on an internal network to simplify firmware updates. |
| | | |
| | | The Tech Support Report, automatically maintained by iDRAC, is a continuously updated health and status report that monitors over 5,000 key system parameters and can help cut time needed to identify and resolve server issues. |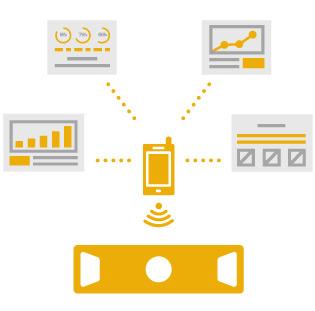 Monitor and manage from anywhere
Administer systems from your smartphone, laptop or at the system with both local and remote management options.
Use your smartphone with the OpenManage Mobile app to securely monitor remote systems, or connect to a server via Near Field Communications (NFC) to access a status report and logs using the iDRAC Quick Sync feature.
Use a USB memory stick to upload configurations files for BIOS, iDRAC, PERC, LAN on motherboard (LOM) and network interface card (NIC) updates with the iDRAC Direct feature.
Connect a laptop via USB to a specific server's embedded iDRAC8 management-console interface for robust "at the system" management.
Accelerate IT service deployment
Streamline infrastructure provisioning, speed up workload deployment and simplify IT service delivery through the unified console and highly intuitive user interface of Active System Manager. Enhanced for the latest generation of PowerEdge servers, it features:

• Template-based server and IO configurations, identity management and service migration capabilities
• Fast workload deployment with an expanding out-of-box template library
• Cloud enablement with support for infrastructure as a service (IaaS) and platform as a service (PaaS), including Red Hat and VMware solutions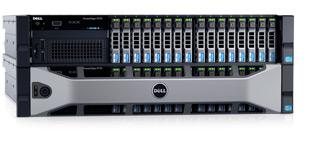 Stocking the future-ready data center
With high-performance processing, large memory capacity and innovative local storage options offering greater scalability throughout the portfolio, the latest generation of PowerEdge servers meets your needs today, with the hardware, headroom and simplified management to adapt as your workloads demand.
Short Tech Specification
PowerEdge R730 3.5″ Chassis with up to 8 Hard Drives, Intel Xeon E5-2630 v4 2.2GHz,25M Cache,8.0 GT/s QPI,Turbo,HT,10C/20T (85W) Max Mem
2133MHz, 8GB RDIMM, 300GB 10K RPM SAS 12Gbps 2.5in Hot-plug Hard Drive,3.5in HYB CARR, PERC H730 Integrated RAID Controller,1GB Cache , Dual, Hot-plug, Redundant Power Supply, iDRAC8 Enterprise
Detailed Tech Specification
PowerEdge R730 Server
Intel Xeon E5-2630 v4 2.2GHz,25M Cache,8.0 GT/s QPI,Turbo,HT,10C/20T (85W) Max Mem
R730/xd PCIe Riser 2, Center
R730 PCIe Riser 3, Left
PowerEdge R730 Shipping EMEA2 (English/Slovenian/Slovakian/Polish/Czech/Hungar/Greek/Arab)
Bezel
Chassis with up to 8, 3.5″ Hard Drives
Performance Optimized
2133MT/s RDIMMs
8GB RDIMM, 2133MT/s, Dual Rank, x8 Data Width
DIMM Blanks for System with 1 Processor
Standard Heatsink for PowerEdge R730/R730xd
No Additional Processor
R730 PCIe Riser 1 Filler Blank, Right
iDRAC8 Enterprise, integrated Dell Remote Access Controller, Enterprise
300GB 10K RPM SAS 12Gbps 2.5in Hot-plug Hard Drive,3.5in HYB CARR
PERC H730 Integrated RAID Controller, 1GB Cache
Performance BIOS Settings
DVD+/-RW, SATA, Internal
Dual, Hot-plug, Redundant Power Supply (1+1), 750W
UK Power Cord 2 ZR
PowerEdge Server TPM 1.2 FIPS
Broadcom 5720 QP 1Gb Network Daughter Card
PowerEdge R730/R730xd Motherboard
No Media Required
No Operating System
Electronic System Documentation and OpenManage DVD Kit, PowerEdge R730/xd
No Installation Service Selected (Contact Sales Rep for more details)
Not Selected in this Configuration
Asset Service – System & Shipbox Label (Model, Svc Tag, Order Information, Basic Config
PCIe Slot Filler, R730/R730xd
ReadyRails Sliding Rails With Cable Management Arm
Unconfigured RAID for H330/H730/H730P (1-16 HDDs or SSDs)
Enterprise Order – EMEA.
Base Warranty
1Yr Parts Only Warranty (Emerging Only)
Declined ProSupport
INFO 1Yr Basic Warranty – Next Business Day (Emerging Only)
3Yr Basic Warranty – Next Business Day (Emerging Only)
INFO Declined Remote Consulting