Dell PowerEdge R530 Intel Xeon E5-2620 v4 8GB RDIMM 1TB HD – 3Yr
Built for versatility.
Deliver balanced performance and midrange scalability with a powerful 2S/2U rack server.
Overview
Accelerate performance across a wide range of workloads
Designed for data centers needing an affordable, virtualization-ready, 2-socket rack server, the R530 is an excellent platform for a wide range of common business applications, including:
Mail and messaging
File and print
Workgroup collaboration
Web serving
Video streaming
The R530 is also highly attractive as a dedicated development or backup server.
---
Deliver peak performance
Accelerate results across a wide range of workloads with the latest Intel® Xeon® processor E5-2600 v4 product family, with up to 22 cores per processor.
Boost memory and I/O performance with:
12 DIMM slots and DDR4 memory, providing as much as 15 percent greater memory bandwidth and drawing up to 30 percent less power than previous-generation DDR3 RAM
Five PCIe slots, including three PCIe Gen3 slots that drive twice the data throughput compared to PCIe Gen2
---
Discover greater versatility
Adapt to changing workload conditions with an expandable platform ready for virtualization and high-availability clustering. The R530 easily accommodates data growth with support for up to eight 3.5″ hard drives and a range of RAID options for data protection and optimized performance. In addition, Dell's innovative Failsafe Hypervisor provides hypervisor redundancy, giving the R530 additional resiliency compared to single-point-of-failure implementations.

---
Maximize operational efficiency
Save time and reduce potential for error with simplified, intuitive systems management.
Speed time to production and drive better ROI by automating deployment, management and updating with the integrated Dell Remote Access Controller 8 (iDRAC8) with Lifecycle Controller.
Control data center availability more effectively by monitoring and managing the health and availability of Dell PowerEdge servers anytime, anywhere through OpenManage Mobile and a handheld device.
Harness your energy budget with energy-efficient processors, memory and power supplies. Fresh Air 2.0 configurations allow you to operate confidently at extended temperatures without the need for chilled air.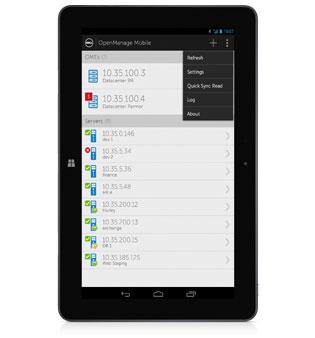 Dell Solutions
Transform your data center. We can help.
When you buy a Dell server, you get more than just hardware. You get access to IT solutions end to end. From the onboard iDRAC with Lifecycle Controller in each server — to a huge array of complementary technologies, software, and services — we help you develop data center solutions that advance the goals of your business or organization, for now, and for the future.Among an array of innovative technologies, you'll find state-of-the-art solutions for systems management, storage, networking and so much more.
State-of-the-art systems management
You can improve the performance, productivity and availability of your data center resources with our cutting edge portfolio of systems management solutions. Get anytime anywhere mobile access to your hardware, agent-free embedded management, extensive automation, and connections to third-party management solutions you may already use.
Innovative storage solutions
Improve security and performance while you store more data on less hardware across your data center. Our storage server portfolio brings you technologies like our industry-leading deduplication and compression algorithms, our patented high-performance Dell Fluid File System (FluidFS), and advanced, intelligent autotiering.
Future-ready networking
You can optimize and modernize your network infrastructure, and evolve beyond proprietary architectures with our open, standards-based networking solutions, and ready paths to software defined networking (SDN). We've been delivering high-performance, reliable networking solutions for over a decade, and today we power some of the world's most demanding enterprise and Cloud/Web 2.0 environments.
And so much more
Servers, storage and networking solutions are just the tip of the iceberg of technologies we can help you develop, manage and optimize. When you visit our solutions pages, you'll find insights and resources for the following technologies, and many more:
Cloud Computing
Converged Infrastructure
Systems Management
High Performance Computing
Mobile/BYOD Solutions
Networking

Power and Cooling
Security
Storage
Virtualization
Software
And more …
Visit our Solutions site for details, or talk to a Dell expert for one-on-one expertise.
---
Dell EMC offers complete end-to-end services
Optimizing the IT lifecycle is vital. We have expert services* for all lifecycle phases that save you time and resources, reduce effort, and improve your IT experience.
Short Tech Specification
R530- 8 x 3.5 Hot Plug, Intel Xeon E5-2620 v4 2.1GHz,20M Cache,8.0GT/s QPI,Turbo,HT,8C/16T (85W) Max Mem 2133MHz, 8GB RDIMM, 4*1TB 7.2K RPM NLSAS 6Gbps 3.5in Hot-plug Hard Drive,13G, DVDRW, PERC H330 Integrated RAID Controller,Dual, Hot-plug, Redundant Power Supply (1+1), 495W , iDRAC Express, rack rails with  cable management arm, Windows Server 2016 Standard,16CORE,Factory Installed
Detailed Tech Specification
PowerEdge R530 Server
Intel Xeon E5-2620 v4 2.1GHz,20M Cache,8.0GT/s QPI,Turbo,HT,8C/16T (85W) Max Mem
2133MHz
Energy Star, PowerEdge R530
3.5″ Chassis with up to 8 Hard Drives
Dell EMC 2U Standard Bezel
Riser
PowerEdge R530 Shipping EMEA2
Slovenian/Slovakian/Polish/Czech/Hungar/Greek/Arab)
Performance Optimized
2400MT/s RDIMMs
8GB RDIMM, 2400MT/s, Single Rank, x8 Data Width
No Additional Processor
iDRAC8, Basic
1TB 7.2K RPM NLSAS 512n 3.5in Hot-plug Hard Drive 8 ZR
PERC H330 RAID Controller, Minicard
PowerEdge R430/R530 Motherboard MLK
Performance BIOS Settings
Up to 135W Heatsink for PowerEdge R530
DVD+/-RW, SATA, Internal
Dual, Hot-plug, Redundant Power Supply (1+1), 495W
UK Power Cord 4 ZR
PowerEdge Server FIPS TPM 2.0
Broadcom 5720 DP 1Gb Network Interface Card 4 ZR
On-Board LOM
Windows Server 2016 Standard,16CORE,Factory Installed, No Media,NO CAL
Windows Server 2016 Standard,16CORE,Media Kit
No Systems Documentation, No OpenManage DVD Kit
Basic Deployment Dell Server R Series 1U/2U
CSO OEM Solution Advanced Program Support, EMEA
INFO Declined Remote Consulting
ReadyRails Sliding Rails With Cable Management Arm
RAID 10 for H330/H730/H730P (4-8 HDDs or SSDs in pairs)
Enterprise Order – EMEA.
UEFI BIOS Boot Mode with GPT Partition
1Yr Parts Only Warranty (Emerging Only)
3Yr ProSupport and Next Business Day On-Site Service (Emerging Only)