Buy new Autel Evo 2 from Aeromotus in Dubai, and have confidence that you are dealing with UAV experts. We always offer best prices and support.
What's In The Box:
– Aircraft, Battery & Gimbal Holder
– Remote Control
– Charger
– Remote Control Cable – Type B
– Propellers (Pair) x3
– USB Connection Cable (2pcs: Micro Type B & Type C)
The only 8K folding drone on the planet. Capture content at resolutions up to a massive 8000×6000. This resolution gives users the flexibility to print images over 100 inches wide. Grab incredible screenshots, punch-in, scale or display on massive monitors up close. Lossless in-camera zoom up to 4x. With 8K there are no limitiations.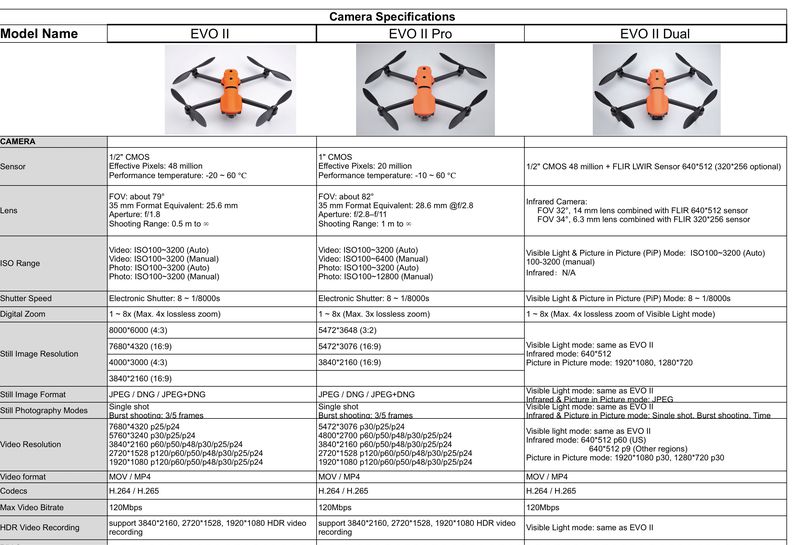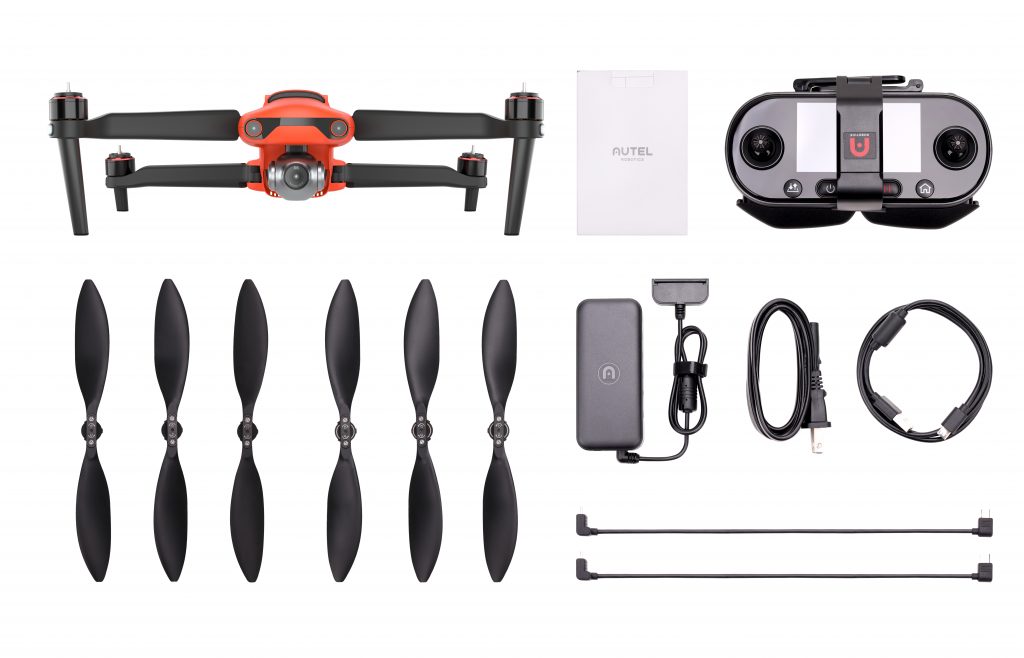 Aircraft
| | |
| --- | --- |
| Takeoff Weight | 1127g-1192g |
| Wheelbase | 397mm |
| Max Speed | Standard: 15m/sLudicrous: 20m/s |
| Max Service Ceiling | 7000m |
| Max Flight Time | Hover: 35minMoving: 40min |
| Transmission Type | FCC: 2.4GHz ALink |
| Max Transmission Distance | 9km |
| Storage | Internal: 8GBMax SD: 128GB |
| Battery Type | LiPo 3s |
| Battery Size | 7100mAh |
| Controller Screen | 3.3in OLED 330 Nits |
| Controller Battery | 5000mAh |
Sensing System
Sensing Type
12 Omnidirectional computer vision sensors
Detection Range
Forward: .5m – 40mBackward: .5m – 32m

Upward: .5m – 24m

Downward: .5m – 22m

Sides: .5m – 24m

FOV
Forward: Horizontal 60° Vertical 80°Backward: Horizontal 60° Vertical 80°

Upward: Horizontal 60° Vertical 50°

Downward: Horizontal 60° Vertical 50°
Camera Payloads
| | | | |
| --- | --- | --- | --- |
| | EVO II 8k | EVO II PRO 6k | EVO II DUAL |
| Sensor | Sony IMX586 | Sony IMX383 | FLIR Boson + IMX586 |
| Max Resolution | Stills: 8000*6000Video: 7680*4320 | Stills: 5472*3648Video: 5472*3076 | Stills: 8000*6000IR: 640*512 |
| Format | MOV/MP4 | MOV/MP4 | MOV/MP4 |
| Codec | H.264/H.265 | H.264/H.265 | H.264/H.265 |
| HDR Support | Yes | Yes | Yes |
| AF Support | Yes | Yes | Yes |
| Defog | Yes | Yes | NA |
| Histogram | Yes | Yes | Visible Only |
| 10-Bit Log | Yes | Yes | Visible Only |
| Aperture | f1.8 | F2.8-f/11 | Visible f1.8 |
| Zoom | 1-8x(4x lossless) | 1-8x(4x lossless) | 1-8x(4x lossless) |
| ISO Range | Video: 100 – 3200Photo: 100 – 3200 | Video: 100 – 6400Photo:100 – 12800 | Visual Light100 – 3200 |